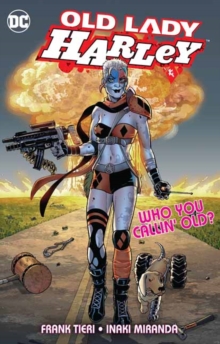 Old Lady Harley
140129216X / 9781401292164
If you think that s a big problem, just wait. The Joker couldn t possibly still be alive, could he?
After all Harley killed him with her bare hands! Should she turn to President Power Girl for help? Or flee to the 51st state, Atlantis? Step into an insane vision of a future DC Universe we all better hope we don t live to see! In this dystopian-future tale, Harley s quest to find out how The Joker could possibly still be alive has taken her back to their old stomping grounds, but Gotham City is very different nowadays!
Nobody s allowed on the streets without the Batman s permission but who is this Batman, anyway?
Harley s only choice is to return to Arkham the Arkham Home for Criminally Insane Retirees, that is!
Fancy a round of bingo with the Riddler? Or some pool aerobics with Killer Croc? Collects Harley Quinn #42 (Rebirth Series) and Old Lady Harley #1-5.
BIC: