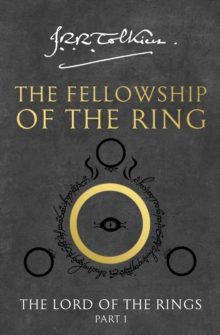 The fellowship of the ring : being the first part of The lord of the rings
0261103571 / 9780261103573
20 cm xxiii, 407 pages : illustrations (black and white), maps (black and white)
The first part of Tolkien's epic masterpiece, The Lord of the Rings, featuring an exclusive cover designed to complement the new 'History of Middle-earth' series. * Now a USD300 million film trilogy from New Line Cinema -- the movie event of the decade * Part One of Tolkien's great masterwork * One of the greatest works of imaginative fiction in the English language * The acknowledged Book of the 20th Century * Eyecatching new covers designed to perfectly complement the new 'History of Middle-earth' series. * Text corrections make this most up-to-date reissue the definitive version of Tolkien'
The first part of Tolkien's epic masterpiece, The Lord of the Rings, featuring an exclusive cover designed to complement the new 'History of Middle-earth' series.
Sauron, the Dark Lord, has gathered to him all the Rings of Power -- the means by which he intends to rule Middle-earth.
All he lacks in his plans for dominion is the One Ring -- the ring that rules them all -- which has fallen into the hands of the hobbit, Bilbo Baggins.
In a sleepy village in the Shire, young Frodo Baggins finds himself faced with an immense task, as his elderly cousin Bilbo entrusts the Ring to his care.
Frodo must leave his home and make a perilous journey across Middle-earth to the Cracks of Doom, there to destroy the Ring and foil the Dark Lord in his evil purpose.
Now available in smart a new livery to match the 'History of Middle-earth' series, and impossible to describe in a few words, JRR Tolkien's great work of imaginative fiction has been labelled both a heroic romance and a classic fantasy fiction.
By turns comic and homely, epic and diabolic, the narrative moves through countless changes of scene and character in an imaginary world which is totally convincing in its detail.
BIC:
Prizes:
R 2003 The BBC Big Read Top 100
R 2003 The BBC Big Read Top 21
S 2003 BBC Big Read Top 100