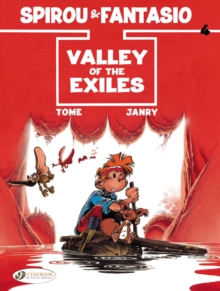 Valley of the exiles
1849181578 / 9781849181570
29 cm 46 pages : chiefly illustrations (colour)
Translated from the French.
Even in the worst of places, you'll be all right as long as you have your best friend with you.
Right...? Spirou and Fantasio, swallowed by the raging waters of the river, find themselves in an unknown valley filled with very peculiar, and very dangerous, life.
As they brace themselves to face a hostile nature long enough to find their way out, Fantasio contracts a deadly disease that turns him into a homicidal maniac.
Spirou must now find a way to save him-and himself-and escape the deserted valley.
If it really is deserted, that is...
BIC:
YFW Comic strip fiction / graphic novels (Children's / Teenage)