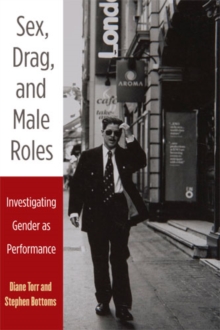 Sex, drag, and male roles : investigating gender as performance
0472051024 / 9780472051021
23 cm xiii, 291 p. : ill., ports.
Professional & Vocational Learn More
Tertiary Education (US: College)
This title offers the gender-bending performances of Dlane Torr, creator of the Man for a Day workshops.
For nearly twenty years, performance artist Diane Torr has been teaching women how to dress and pass as men on city streets around the world.
This cultural subterfuge has appealed to many, for different reasons: personal confidence building, sexual frisson, gender subversion, transcuriosity, or just the appeal of disguise and role play.
This book documents and contextualizes the development of Torr's internationally celebrated workshops, as well as her own ongoing experiments in performing gender-play in theaters, galleries, and clubs.
She has been one of the key pioneers of 'drag king' performance.
The book blends first-person memoir and commentary from Torr with critical reflections and contextualization from leading performance critic Stephen Bottoms, including a consideration of the long cultural history of female-to-male cross-dressing.
The book concludes with Torr's ""Do It Yourself"" guide to becoming a 'Man for a Day'.
BIC: