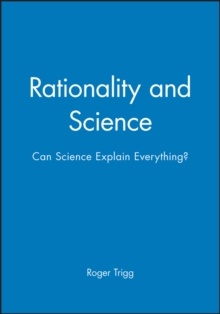 Rationality and Science : Can Science Explain Everything?
0631190376 / 9780631190370
Stock expected by 11/04/2020
166 x 227 mm, 408 grams 256 pages
Professional & Vocational Learn More
Postgraduate, Research & Scholarly
Undergraduate
In this accessible introduction to a popular debate, Professor Trigg faces the issues squarely and examines how far it is possible to give reasons for trusting science.
In defending a realist outlook, Trigg shows that even physical science must be given metaphysical foundations.
In doing so, he explains and evaluates the views of Rorty, Wittgenstein, Quine, Putnam, and Hawking, amongst others.
The limits of science and rationality are explored and the power of human reason is in the end upheld.
BIC: