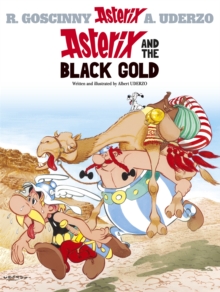 Asterix and the black gold
Part of the Asterix series
0752847740 / 9780752847740
Reprint. This translation originally published: London: Hodder Headline, 1982.
Special re-release to follow the first new Asterix adventure for 5 years Global sales of Asterix outstrip Harry Potter 11,000 websites devoted to Asterix Combined UK sales of the last 5 books - 2.2 million copies Over 300 million books sold world-wide.
The druid Getafix is running short of rock oil - an essential ingredient in the magic potion, which gives the Gaulish villagers superhuman strength to fight Julius Caesar's Roman legions.
But the Phoenician merchant Ekonomikrisis has forgotten the druid's order, and Asterix and Obelix set off to prospect for black gold in the Middle Eastern desert.
Their mission is complicated by the Roman secret agent Dubbelosix and his amazing folding chariot, which is equipped with all the latest spy gadgets.
Although they finally come home empty-handed, all is not lost - Getafix has discovered that beetroot juice works just as well in the potion ...
BIC:
YFW Comic strip fiction / graphic novels (Children's / Teenage)