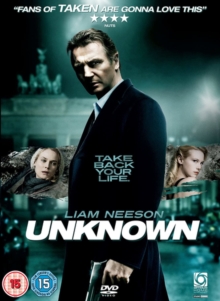 (15) Suitable for 15 years and over.
Liam Neeson and Diane Kruger star in this mystery thriller based on the novel 'Out of My Head' by Didier van Cauwelaert.
Dr Martin Harris (Neeson) wakes up from a coma in Berlin, only to discover that another man (Aidan Quinn) has assumed his identity in his absence and that no one, not even his wife (January Jones), appears to realise what has happened.
As self-doubt and paranoia take hold, Harris is about to discover just how far he is willing to go to prove the truth and reclaim his life.
Interviews: Liam Neeson, January Jones, Diane Kruger, Jaume Collet-Serra and Joel Silver
Other Documentary: 'Liam Neeson: Known Action Hero', 'Unknown: The Story'