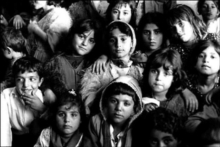 Modernity and the stateless : the Kurdish question in Iran
1860640508 / 9781860640506
postgraduate Learn More
research & professional
undergraduate
The Kurds are the largest stateless nation in the contemporary world.
They live under the jurisdiction of four sovereign states, Iran, Iraq, Turkey and Syria, which deny their national identity and suppress its political and cultural manifestations.
The diversity of Kurdish societies that flows from this division has deprived the Kurds of ideological cohesion and political unity.
But although Kurdish movements have assumed different forms and pursued different strategic objectives, their resistance to imposed national identities is the fundamental cause of Kurdish rebellions.
BIC:
1FB Middle East, JFSL Ethnic studies, JPFN Nationalism, JPHV Political structures: democracy, JPVH3 Land rights, JPVR Political oppression & persecution