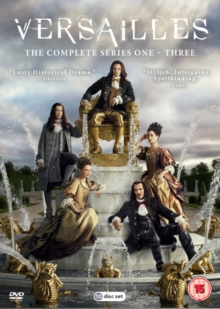 Versailles: The Complete Series One - Three
(18) Suitable for 18 years and over.
All the episodes from the first three series of the historical drama starring George Blagden as French monarch Louis XIV.
In a bid to strengthen his weakening position among the country's elite, Louis decides to move the French court from Paris to Versailles.
However, with the Parisian nobility deeply opposed to the move, Louis is faced with negotiating a dangerous cycle of lies, deceit and vicious political manoeuvrings as he attempts to exert his authority.
Series 1 episodes are: 'Welcome to Versailles', 'I Am the State', 'Mirror for Princes', 'The Road', 'Bow to Your King', 'Invalides', 'Revelations', 'Diplomacy', 'Etiquette' and 'Bring the Garden Here'.
Series 2 episodes are: 'The Labyrinth', 'A Still Small Voice', 'Who Will Guard the Guards Themselves?', 'Miasma', 'War and Peace', 'The Sands of Time', 'A Night', 'The New Regime', 'Seven Shadows' and 'Of Blood and Stone'.
Series 3 episodes are 'Smoke and Mirrors', 'Question of Trust', 'The Truth Will Burst', 'Crime and Punishment', 'The Beyond', 'The Wheel of Fortune', 'The Book of Revelations', 'Men and Gods', 'The Powder Keg' and 'The Legacy'.