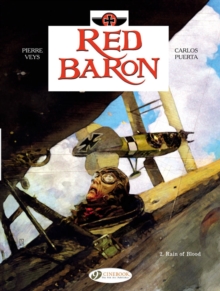 Rain of blood
1849182116 / 9781849182119
29 cm 48 pages : chiefly illustrations (colour)
Manfred Von Richthofen survived his first aerial combat with light injuries only.
As a rear gunner, though, he felt particularly frustrated by his inability to control the plane.
Convinced that he must be able to fly and shoot at the same time to make the most of his mysterious mind-reading ability, he works hard to obtain his pilot licence.
It's in March 1916, in the sky over Verdun, that the Red Baron earns his first victory as a pilot -
BIC: