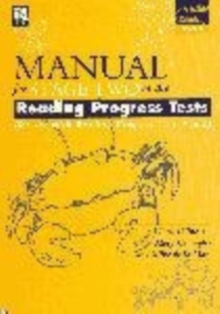 Reading Progress Tests, Stage Two MANUAL
0340683694 / 9780340683699
Usually dispatched within 4 weeks
204 x 291 mm, 170 grams 48 pages
Primary & Secondary Education (US: Elementary & High School) Learn More
The Reading Progress Tests is a popular series of fully standardised tests which meets the need for continuous monitoring of reading progress throughout the primary school.
The tests can be used separately, with particular year groups, but are most informative when used annually, to provide an ongoing measure of attainment.
Each test takes about 45 minutes to administer, and gives standardised scores and reading ages for each year group.
Additionally, "progress norms" makes the tests particulary suitable for continuous year-on-year tracking of individual progress relative to a child's previous performance. Stage One (corresponding to Key Stage 1) covers ages 5 to 8, and comprises a Literacy Baseline plus separate tests for use in Years 1 and 2.
Stage Two, for ages 7 to 12, provides tests for Years 3 to 6: these combine a range of reading texts and illustration in a way which makes the tests motivating and accessible to children across a wide ability range.
BIC:
2AB English, YQC Educational: English language & literacy, YQZ Educational: study & revision guides