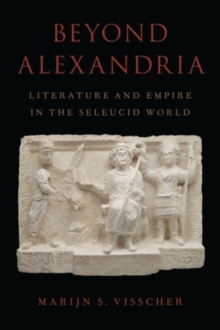 Beyond Alexandria : literature and empire in the Seleucid world
0190059087 / 9780190059088
Stock expected by 31/10/2021
Beyond Alexandria aims to provide a better understanding of Seleucid literature, covering the period from Seleucus I to Antiochus III.
Despite the historical importance of the Seleucid Empire during the long third century BCE, little attention has been devoted to its literature.
The works of authors affiliated with the Seleucid court have tended to be overshadowed by works coming out of Alexandria, emerging from the court of the Ptolemies, the main rivals ofthe Seleucids.
This book makes two key points, both of which challenge the idea that "Alexandrian" literature is coterminous with Hellenistic literature as a whole.
First, the book sets out to demonstrate that a distinctly strand of writing emerged from the Seleucid court, characterized by sharedperspectives and thematic concerns.
Second,Beyond Alexandria explores how Seleucid literature was significant on the wider Hellenistic stage.
Specifically, it shows that the works of Seleucid authors influenced and provided counterpoints to writers based in Alexandria, including key figures such as Eratosthenes and Callimachus.
For this reason, the literature of the Seleucids is not only interesting in its own right; it also provides an important entry point for furthering ourunderstanding of Hellenistic literature in general.
BIC:
2AHA Ancient (Classical) Greek, DSBB Literary studies: classical, early & medieval, HBLA1 Classical history / classical civilisation