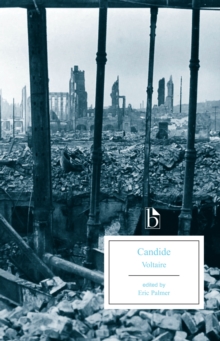 Candide
1551117460 / 9781551117461
Stock expected by 02/09/2022
The philosophical problem of evil-that a supposedly good God could allow terrible human suffering-troubled the minds of eighteenth-century thinkers as it troubles us today.
Voltaire's classic novel Candide relates the misadventures of a young optimist who leaves his sheltered childhood to find his way in a cruel and irrational world.
Fast-paced and full of dark humor, the novel mocks the suggestion that "all is well" and challenges us to create a better world. This Broadview Edition follows the text of a 1759 English translation that was released concurrently with Voltaire's first French edition.
Candide is supplemented by Voltaire's most important poetic and humanistic writings on God and evil, the Poem upon the Destruction of Lisbon and We Must Take Sides.
The editor's introduction situates the novel in its philosophical and intellectual setting; the appendices include other writings by Voltaire, as well as related writings by Bayle, Leibniz, Pope, Rousseau, and others that place the work in its poetic, philosophical, and humanistic contexts.
BIC: