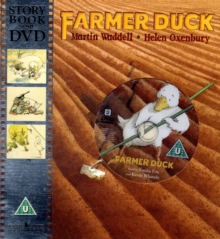 Farmer Duck
1406317071 / 9781406317077
Usually dispatched within 2 weeks
Reprint. DVD. Originally published: without accompanying DVD. 1991.
A bestselling picture book - brought to life with an animated DVD!"How goes the work?" called the farmer.
The duck answered, "Quack!" While the poor duck works, the lazy farmer lies in bed ... until one day the farm animals decide to take action!
Children will love snuggling up to watch the animated version of this charming tale from the acclaimed King Rollo Films - accompanied by specially composed music and narrated by Emilia Fox and Kevin Whately - and following all the action in the classic picture book.
Please note this DVD is Region 2 PAL.
BIC:
4KHF For National Curriculum Key Stage 1, YBC Picture books, YFB General fiction (Children's / Teenage)