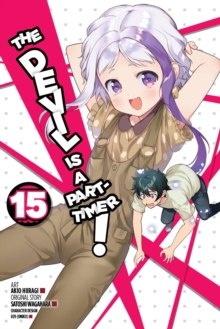 The devil is a part-timer!Volume 15
1975307380 / 9781975307387
20 cm 192 pages : chiefly illustrations
Translated from the Japanese.
While the Hero's away, the Devil willplay!...Who are we kidding?
He'sworried sick. It's way past time for her scheduledreturn,but Emi is nowhere to be found. So, in an attempt to distract his troubled mind,Maoudecides to take his driving test sohe can do deliveries for MgRonald's.
But whenheshows up to the test site, heencouters a mysterious duo...
Meanwhile, anemergencyoccurs at Chio'sschool!
BIC: