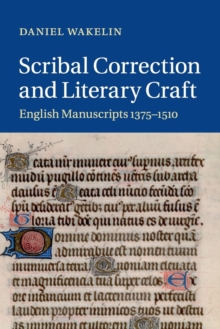 Scribal correction and literary craft : English manuscripts 1375-1510
1107431689 / 9781107431683
Usually dispatched within 4 weeks
23 cm 368 pages : illustrations (black and white)
This extensive survey of scribal correction in English manuscripts explores what correcting reveals about attitudes to books, language and literature in late medieval England.
Daniel Wakelin surveys a range of manuscripts and genres, but focuses especially on poems by Chaucer, Hoccleve and Lydgate, and on prose works such as chronicles, religious instruction and practical lore.
His materials are the variants and corrections found in manuscripts, phenomena usually studied only by editors or palaeographers, but his method is the close reading and interpretation typical of literary criticism.
From the corrections emerge often overlooked aspects of English literary thinking in the late Middle Ages: scribes, readers and authors seek, though often fail to achieve, invariant copying, orderly spelling, precise diction, regular verse and textual completeness.
Correcting reveals their impressive attention to scribal and literary craft - its rigour, subtlety, formalism and imaginativeness - in an age with little other literary criticism in English.
BIC:
2AB English, DSBB Literary studies: classical, early & medieval