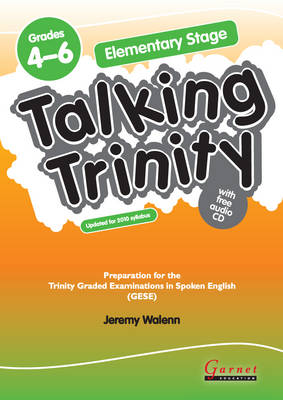 Talking Trinity : preparation for the Trinity Graded Examinations in Spoken English (GESE)Elementary stage - Grades 4-6 (Revised edition)
1859646220 / 9781859646229
Usually dispatched within 2 weeks
30 cm 74 pages : illustrations (colour)
ELT / TEFL (Teaching of English as a foreign language) Learn More
"Updated for 2010 syllabus"--Front cover "A1-A2"--Back cover Previous edition: 2005.
Talking Trinity: Elementary Stage: Preparation for the Trinity Examinations: Grades 4-6 Student's Book The Trinity College London examinations in spoken English provide a structured framework to encourage students to improve their oral skills using language that is appropriate to their needs.
This book covers the Elementary Stage (Grades 4, 5 and 6) of the exams.
There are eight lessons. Each lesson focuses on one of the conversational subjects in the Trinity syllabus.
The lessons provide: * listening and speaking practice; * grammar and vocabulary support; * and examination advice.
The pictures and illustrations provide materials specially designed to motivate students to speak about subjects that are of interest to them.
The lessons are not only enjoyable but also provide a complete and thorough preparation for the exams. Key Features * Comprehensive listening and speaking exam practice with full grammar and vocabulary support * Eight lessons for each grade, available in separate books or a combined edition * Each lesson focuses on one of the conversational subjects in the revised Trinity syllabus * Colourful pictures and illustrations to help young students to talk about subjects that motivate and interest them * Expert examination advice for achieving success * Now revised to cover the Trinity 2010-2013 GESE syllabus * Audio CD included with Student's Book Separate Grade 4, Grade 5 and Grade 6 Student's Books and a Teacher's Book are also available.
BIC:
* Variable discounts between 0% and 15% are applied to items where BBfS cannot determine exact discounts from suppliers.