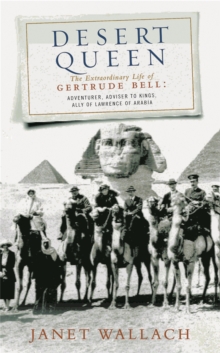 Desert queen : the extraordinary life of Gertrude Bell, adventurer, adviser to kings, ally of Lawrence of Arabia (Rev. ed)
0753802473 / 9780753802472
Stock expected by 26/04/2021
22 cm xxvii, 419 p., [16] p. of plates : ill.
Reprint. Prevous ed.: London: Weidenfeld & Nicolson, 1996.
There has been a resurgence of interest in Gertrude Bell because of her importance in the formation of modern Iraq Events of book have contemporary relevance - there are parallels between what happened to the British and what happened to the Americans in the recent Iraq War There have been many articles on Gertrude Bell in the last six months Janet Wallach has been invited to speak at a large number of festivals and Book Clubs 'This is an important book on an important woman. Gertrude Bell is not just another intrepid but inconsequential lady traveller exhumed for posterity by a well-meaning f
Turning away from privileged Victorian Britain, Gertrude Bell explored, mapped and excavated the world of the Arabs, winning the trust of Arab sheiks and chieftains along the way.
When the First World War erupted and the British needed the loyalty of Arab leaders, Gertrude Bell provided the intelligence for T.E.
Lawrence's military activities. After the war, she played a major role in creating the modern Middle East, and was generally considered the most powerful woman in the British Empire.
In this major reassessment of Bell's life, Janet Wallach reveals a woman whose achievements and independent spirit were especially remarkable for her times, and who brought the same passion and intensity to her explorations as she did to her rich and romantic life.
BIC:
1FB Middle East, BGH Biography: historical, political & military, JPS International relations