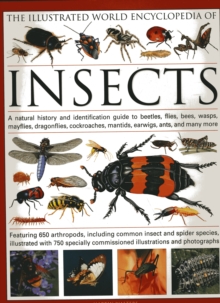 The illustrated world encyclopedia of insects : a natural history and identification guide to beetles, flies, bees, wasps, mayflies, dragonflies, cockroaches, mantids, earwigs, ants and many more
0754819094 / 9780754819097
31 cm 256 p. : col. ill., col. maps
This is a wide-ranging, expert identification guide to every order of the insect world including fleas, beetles, cockroaches and crickets, as well as many less visible creatures.
Identification details are provided for more than 650 insect species, and many are illustrated with specially commissioned watercolours.
This book includes an in-depth look at insect defence mechanisms such as camouflage, mimicry, hissing, bites and stings, and colouration that suggests danger.
Each stage of the insect life cycle is described with illustrations depicting different development phases.
It includes 1000 spectacular photographs and anatomically correct watercolours provide a fascinating visual record of the insect world.
This beautifully illustrated book provides an overview of the world of insects.
The introduction looks at every aspect of insect life: basic anatomy, life cycles, social organisation, feeding techniques, how insects fly, and the ways in which insects are beneficial to humans.
An in-depth look at each of the orders that makes up the insect group, with examples of common species, completes the front section of the book. The majority of the book is an encyclopedia of insects organised geographically and then by insect order.
Identification details are provided for each insect, such as body colour and segmentation, shape and size, the habitat where each can be found and the time of year, if appropriate.
Differences between male and female species are included as well as changes in appearance at each life stage.
BIC:
GBC Reference works, WNCN Wildlife: butterflies, other insects & spiders