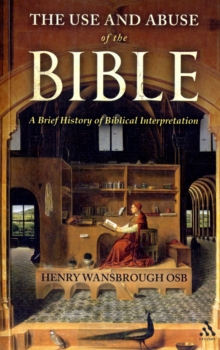 The use and abuse of the Bible : a brief history of biblical interpretation
0567090574 / 9780567090577
Usually dispatched within 4 weeks
Written in an engaging and entertaining manner, this new book from leading Catholic biblical scholar Henry Wansbrough charts the use and abuse of scripture throughout the ages.
It ranges from the evangelists' engagement with the Hebrew Scriptures to the use of the Bible in present day politics - perhaps most pertinently in the Israeli-Palestinian conflict.
Wansbrough takes as his starting point Frances Young's "The Art of Performance".
This enables him to creatively display how 'The Bible' is 'performed' differently in different ages.
Wansbrough demonstrates the variety of these performances and their different emphases in the history of Christianity to glimpse the different ways in which great figures within the Christian tradition have used and abused the Bible.
Indirectly, therefore, it attacks the ever-present danger of fundamentalism, and single-minded interpretation of the Bible.
Viewing the interpretation of the Bible against the background of various historical periods gives a valuable insight into the long and rich history of the Church.
A final chapter provides a 'worked example' of "Lecto Divina" providing a window into the author's personal life of praying the Bible.
BIC: