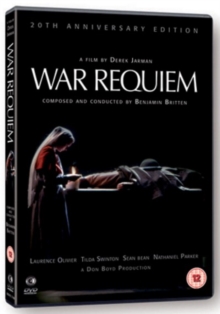 DVD (DVD / 20th Anniversary Edition)
(12) Suitable for 12 years and over.
Derek Jarman's critically-acclaimed visual evocation of the original recording of Benjamin Britten's choral masterpiece which blended the Latin Mass of the Dead with the poignant poetry of British First World War poet, Wilfred Owen.
Dramatised scenes, featuring performances from the likes of Nathaniel Parker, Tilda Swinton, Sean Bean and Laurence Olivier, are interwoven with cinematic, poetic images and harrowing archive footage which all serve to recreate the horrors of 20th century warfare.
Interviews: Tilda Swinton, cast and crew
Commentary: Don Boyd (Producer)
Other Documentary: 'War Requiem Live in Liverpool' - a feature on the Royal Liverpool Philharmonic's 2008 performance of Britten's masterpiece