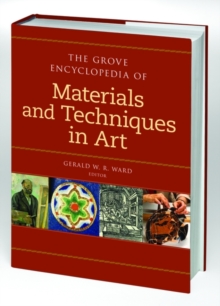 The Grove encyclopedia of materials and techniques in art
0195313917 / 9780195313918
Usually dispatched within 4 weeks
26 cm xvii, 828 p., xvi p. of plates : ill. (some col.)
The Grove Encyclopedia of Materials and Techniques deals with all aspects of materials, techniques, conservation, and restoration in both traditional and nontraditional media, including ceramics, sculpture, metalwork, painting, works on paper, textiles, video, digital art, and more.
Drawing upon the expansive scholarship in The Dictionary of Art and adding new entries, this work is a comprehensive reference resource for artists, art dealers,collectors, curators, conservators, students, researchers, and scholars. Similar in design to The Grove Encyclopedia of Decorative Arts, this one-volume reference work contains articles of various lengths in alphabetical order.
The shorter, more factual articles are combined with larger, multi-section articles tracing the development of materials and techniques in various geographical locations.
The Encyclopedia provides unparalleled scope and depth, and it offers fully updated articles and bibliography as well as over 150 illustrations and colorplates. The Grove Encyclopedia of Materials and Techniques offers scholarly information on materials and techniques in art for anyone who studies, creates, collects, or deals in works of art.
The entries are written to be accessible to a wide range of readers, and the work is designed as a reliable and convenient resource covering this essential area in the visual arts.
BIC:
ABA Theory of art, AC History of art / art & design styles, AGZ Art techniques & principles