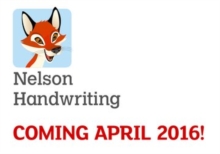 Nelson Handwriting: Year 3/Primary 4: Pupil Book 3 Pack of 15
0198368569 / 9780198368564
197 x 266 mm, 3236 grams 64 pages
Primary & Secondary Education (US: Elementary & High School) Learn More
Nelson Handwriting is the definitive handwriting programme for the whole school.
This completely updated new edition provides all the tools and resources you need to ensure a consistent whole-school approach to handwriting.
This pack of 15 copies of Pupil Book 3 focuses on consistency and correct letter and join formation.
Writing with a slope is introduced in this book. Links are made to the National Curriculum for Spelling and Grammar.
BIC:
4KHJ For National Curriculum Key Stage 2, YQCS1 Educational: writing skills: handwriting