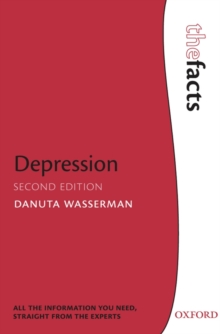 Depression (2nd ed)
Part of the The facts series
019960293X / 9780199602933
Usually dispatched within 4 weeks
The term "depression" covers a wide spectrum of conditions ranging from mild despondency to melancholia, the very deepest form of depression.
Natural despondency is not a disease but simply a part of life.
Depression, however, is a common psychiatric illness that must be identified and treated in the same manner as other illnesses.
Depression: The Facts, Second Edition provides a simple, yet comprehensive overview of depression for sufferers, their friends, and families. It contains case-study descriptions and can serve as a quick-reference for those with a medical background.
It succinctly details the signs and symptoms of clinical depression, as well as the process of diagnosis and the different subtypes, including major depression, dysthymia, manic depression disorders, and seasonal affective disorder.
The second partof the book covers the current understanding of the causes of depression, based on the scientific evidence.
The book concludes with a review of treatment options and practical guidance on self-help in depression, as well as useful advice for family and friends. The main aim of this book is to reach those who need help and want to understand themselves and their condition more, in an easy-to-read format without an excess of medical terminology and statistics that may overwhelm the non-medically trained individual. All concepts have been broken down into bullet-points and sub-headings, to allow easy digestion of the concepts and information.
This empowers the reader, and may ultimately prompt someone to seek help and support.
BIC:
MBPK Mental health services, MMH Psychiatry, VFD Popular medicine & health, VSP Popular psychology