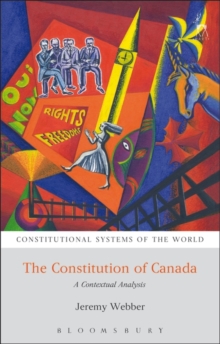 The Constitution of Canada : a contextual analysis
1841133639 / 9781841133638
Professional & Vocational Learn More
Tertiary Education (US: College)
The book introduces and describes the principal characteristics of the Canadian constitution, including Canada's institutional structure and the principal drivers of Canadian constitutional development.
The constitution is set in its historical context, noting especially the complex interaction of national and regional societies that continues to shape the constitution of Canada.
The book argues that aspects of the constitution are best understood in 'agonistic' terms, as the product of a continuing encounter or negotiation, with each of the contending interpretations rooted in significantly different visions of the relationship among peoples and societies in Canada.
It suggests how these agonistic relationships have, in complex ways, found expression in distinctive doctrines of Canadian constitutional law and how these doctrines represent approaches to constitutional legality that may be more widely applicable.
As such, the book charts the Canadian expression of trans-societal constitutional themes: democracy; parliamentarism; the rule of law; federalism; human rights; and Indigenous rights, and describes the country that has resulted from the interplay of these themes. 'The Constitution of Canada is a masterpiece - an outstanding and original study of the Canadian constitutional experience by one of Canada's leading legal scholars.
Webber explains the history, characteristics and resourcefulness of the living constitution in non-technical and illuminating language.
He also shows how the constitution is shaped by the engagement and interaction of the diverse people of Canada, who are simultaneously subjects and active citizens of it - a dynamic he calls "agonistic constitutionalism".' James Tully, Distinguished Professor, University of Victoria'Jeremy Webber has given us a rich, contextual account of Canada's constitution.
Webber moves beyond the confines of constitutional texts and judicial decisions and grounds his account in the circumstances of the country's history.
Only such an account can capture the deep diversity that is the hallmark of Canada's constitutional culture.' Peter Russell, Professor Emeritus, University of Toronto
BIC: