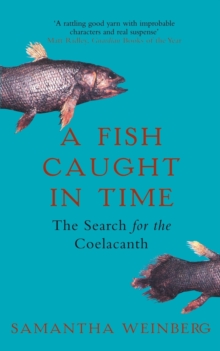 A fish caught in time : the search for the coelacanth
1857029070 / 9781857029079
Usually dispatched within 4 weeks
Reprint. Originally published: 1999.
In 1938 Marjorie Courtenay-Latimer, a young South African museum curator, caught sight of a fish among a fisherman's trawl in the Indian Ocean.
It was thought to have been extinct for 70,000,000 years and believed by scientists to be the evolutionary missing link - the first creature to crawl out of the sea 400,000,000 years ago.The museum board members dismissed it as a common lungfish, but when Marjorie contacted Professor J.L.B.
Smith, he immediately identified it as the evolutionary Holy Grail - the greatest zoological discovery of the 20th century.
But Smith needed a live or frozen specimen to verify the discovery, and thus began a search to which he devoted his life.
BIC:
1QSN Indian Ocean, 3JJ 20th century, HBT History: specific events & topics, PDZ Popular science, PSAJ Evolution, PSVW1 Fishes (ichthyology)