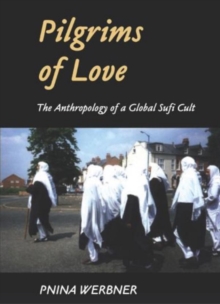 Pilgrims of love : the anthropology of a global Sufi cult
1850656517 / 9781850656517
Stock expected by 12/12/2021
general Learn More
postgraduate
research & professional
undergraduate
This text is the product of 12 years of research into a transnational Sufi Naqshbandi order headed by a living saint, Zindapir, whose cult originates in the North West Frontier Province of Pakistan and which has extended its reach globally during the saint's lifetime - to the Middle East, the United States, Britain, Europe and Southern Africa.
Through an in-depth analysis the volume aims to elucidate the complex organization of Sufi orders as regional and transnational cults, and how such cults are manifested through ritual action and embodied in sacred mythology and transnational diasporas.
Pnina Werbner challenges accepted anthropological and sociological truths: firstly, that Sufism is a quietist stream of religion by comparison to more activist, dissenting, new Islamic movements; secondly, that Sufism proves that Islam is plural and responsive to different cultural environments - she argues that underlying Sufi plurality is a common logic and a deep structure; and thirdly, she counters the notion that Sufism is incomparable with a modernist consciousness. The work highlights the vitality of Sufi orders in the postcolonial world and their revitalization in the contemporary Middle East.
BIC:
HRH Islam, HRLK2 Mysticism, JFSR2 Islamic studies, JHM Anthropology