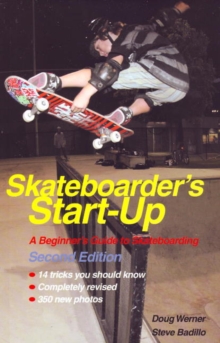 Skateboarder's start-up : a beginner's guide to skateboarding (2nd ed)
1884654347 / 9781884654343
Usually dispatched within 4 weeks
22 cm 141 p. : ill., ports.
Providing updated and revised chapters on safety, equipment, and basic skills, this instructional guide discusses the fundamentals of skateboarding.
Presented in a helpful question and answer format, beginners will find information on buying a first board, where to plant one's feet, how to stay safe while learning new stunts, and the history of this exciting sport.
From ollies to kickturns, detailed techniques are presented on the 15 tricks every skater should know.
Honest and humorous interviews with skating professionals are included, along with an invaluable list of resources - including books, camps, museums, skate parks, shops, websites, and magazines.
With more than 500 new images, step-by-step instructions and photographs illustrate the foolproof methods to turn skateboarding novices into experts.
BIC:
* Variable discounts between 0% and 15% are applied to items where BBfS cannot determine exact discounts from suppliers.