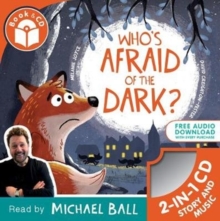 1786709627 / 9781786709622
Usually dispatched within 4 weeks
663 x 250 mm 24 pages, cover + extended flap + cd
The night is scary and full of shadows, and strange sounds from creatures lurking in hidden places.
But, as Little Fox finds out, there's really no need to be afraid of the dark at all.
Follow along to the story, read by Michael Ball, and enjoy a full musical production, plus two super songs, in this brilliant book and CD set.
BIC: