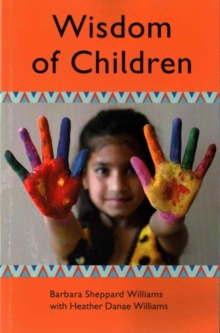 1910919209 / 9781910919200
Usually dispatched within 2 weeks
Every child is born with innate wisdom; the role of adults - parents, educators, social workers and policy makers - is to nurture this wisdom and enable it to flourish.
This is the belief that underpins this extraordinary book.
Barbara and Heather Williams have drawn on the work of Carl Rogers, Virginia Axline and other leading person-centered theorists and educationalists to devise unique ways to foster the innate wisdom of children. 'Children have the ability to trust, to express themselves in a clear, straight way, to be empathetic and open to differences in themselves and other cultures and to accept other people and themselves for who they are and not for what they do or do not do. When a child can recognize and express these qualities it helps them to be insightful, to have high self-confidence, to be creative and to be resilient. When the wisdom of children is not recognized and they cannot express person-centered qualities, their self-confidence goes down, they lose trust, they are fearful and they often either give up or rebel.The educational and medical systems are quick to diagnose them with ADHD, bipolar disorder and other labels and quick to medicate them, when much of this medication could be avoided,' they write. The book is in four main parts.It starts with the founding of DeSillio School, in Fort Collins, Colorado, and tells how teachers, parents and the community worked together to support the wisdom of children and help them to learn in creative ways through using and bringing out their person-centred qualities.It goes on to discuss play therapy, and the use of the person-centered approach with children from age two through adolescence, drawing on case examples, experiences and quotes from children. The third section discusses Native American Indian philosophy and how it informs the Williams' work in education and the workshops they run world-wide with children.
Part four focuses on these Kids Workshops and the training programs Barbara and Heather have created to help children recognize and express their wisdom, be resilient, keep their creativity and appreciate nature.
The book ends with a series of 'what if?' questions: what if politicians, educationalists, economists, parents, teachers, therapists, foster care and children's centers could all recognize the wisdom of children?How could it change the world? Immeasurably, if we allow Barbara and Heather's experience to guide us.
BIC:
JFSP1 Age groups: children, JMC Child & developmental psychology, JNQ Open learning, home learning, distance education
* Variable discounts between 0% and 15% are applied to items where BBfS cannot determine exact discounts from suppliers.