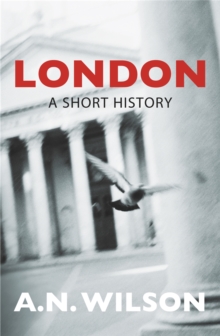 London : a short history
0753820277 / 9780753820278
20 cm x, 166 p., [24] p. of plates : ill. (chiefly col.)
Reprint. Originally published: London: Weidenfeld & Nicolson, 2004.
A.N. Wilson's last book, The Victorians sold over 40,000 copies in hardback A well-known reviewer and longstanding columnist with the Evening Standard, the author has a high London profile There are plenty of good big books on London's history but very few (if any) good short ones 'What shines through is Wilson's love for the city and his anguish at what he sees as the missed opportunity of the post-war period' Mail on Sunday 'Wilson talks with passion and authority about architecture's effect on the populace' Independent on Sunday 'It's manageable, fascinating and impressively wide-ranging fo
The structure of the book is chronological, with digressions.
From Roman and then Norman London, we move on to Chaucer's London - the city of the Peasants Revolt, Dick Whittington and the great Livery Companies.
In Tudor and Stuart London many believed the city was being wrecked by over-population, over-building and the greed of speculators.
Eighteenth-century London witnessed the South Sea Bubble, gin, highwaymen and the Gordon riots; but also banking, hospitals, and the elegant design of everyday things.
Inthe nineteenth century, expanding vigorously, the city resisted any overall make-over.
With Queen Victoria came the Railway Age, which made and unmade the city.
Chartism, anti-semitism, overcrowding and cholera. But engineering triumphs too. If the First World War was a nightmare happening elsewhere, the amazing six years of 1939-45 were the city's finest hour.
Post-1945, property developers took over, with disastrous results.
The author celebrates the cosmopolitan city that mobility and immigration have created,while deploring the moronization' of the city, exemplified by the Millennium
BIC:
1DBKESL London, Greater London, HBJD1 British & Irish history, WQH Local history