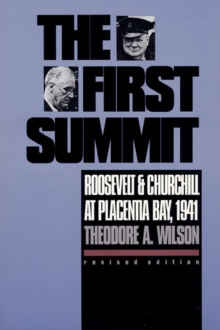 The First Summit : Roosevelt and Churchill at Placentia Bay, 1941
0700604855 / 9780700604852
Usually dispatched within 4 weeks
Postgraduate, Research & Scholarly Learn More
Undergraduate
Four months before Pearl Harbour, Winston Churchill and Franklin D.
Roosevelt met in secret aboard a ship in a secluded Newfoundland harbour.
This was the first summit conference of World War II.
Although it would soon be overshadowed by the events to come, the 1941 summit at Placentia Bay produced dramatic results.
It confirmed the policy of material aid for Britain and sanctioned the ""Atlantic Charter"".
It also laid the groundwork for the three-way alliance that would bring about the destruction of the Axis powers.
In this revised edition of his study, historian Theodore Wilson has expanded and updated the narrative.
Drawing upon primary sources made available since the first edition he has added new material.
Wilson analyzes the events of August 1941 and concludes that President Roosevelt was not totally in control.
As the country lurched from crisis to crisis, bureaucratic politics and organizational dynamics were far more influential than FDR in determining the evolution of US strategy, US policy toward Japan, Anglo-American economic relations, and the efforts to mobilize for war.
Wilson also recaptures the drama and colour of the shipboard discussions - from Roosevelt's bizarre working methods to Churchill's choice of entertainment in the evenings.
BIC:
1DBK United Kingdom, Great Britain, 1KBB USA, 3JJH c 1939 to c 1945 (including WW2), HBJD1 British & Irish history, HBJK History of the Americas, HBWQ Second World War, JPSD Diplomacy, JWK Defence strategy, planning & research