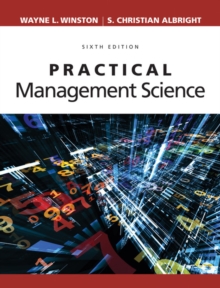 Practical management science (Sixth edition)
1337406651 / 9781337406659
Includes Internet access Previous edition: Australia: Cengage Learning, 2016.
Learn to take full advantage of the power of spreadsheet modeling with PRACTICAL MANAGEMENT SCIENCE, 6E, geared entirely to Excel 2016.
This edition uses an active-learning approach and realistic problems with the right amount of theory to ensure you establish a strong foundation.
Exercises offer practical, hands-on experience with the methodologies.
Examples and problems from finance, marketing, and operations management, and other areas of business illustrate how management science applies to your chosen profession -- and how you can use these skills on the job.
The authors emphasize modeling rather than algebraic formulations and memorization of particular models.
This edition also includes access to Palisade DecisionTools Suite (BigPicture, @RISK, PrecisionTree, StatTools, TopRank, NeuralTools, and Evolver) as well as SolverTable, for sensitivity analysis on optimization models.
Chapters 15-17 are available online via MindTap.
BIC: