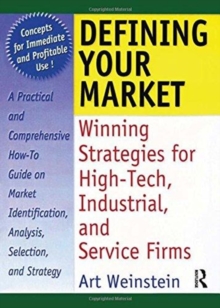 Defining Your Market : Winning Strategies for High-Tech, Industrial, and Service Firms
0789002515 / 9780789002518
Stock expected by 24/10/2019
General (US: Trade) Learn More
Professional & Vocational
Postgraduate, Research & Scholarly
Visionary companies build markets today to be market leaders tomorrow.
This book provides the blueprint. Defining Your Market: Winning Strategies for High-Tech, Industrial, and Service Firms contains research, case studies, and literature reviews on market definition to help marketers, managers, researchers, and strategic planners formulate profitable marketing strategies.
Timely and practical, this book offers a research-based methodology for defining markets that will help your company determine relevant markets and make it the most competitive business in the industry.
Although market definition is the foundation for formulating business strategies and is critical to corporate performance, marketers and top management often rely on intuition or incomplete analyses when targeting markets.
This text discusses the marketing methods used by leading companies and executive and provides you with the knowledge to create strategies that will work for your company.
Defining Your Market examines the topics that will help your company become more successful now and into the next century, including:customer and competitive-driven market definitionsthe five core dimensions of market definition-- customer needs, customer groups, technology, products, and competitionmanagerial implications related to strategic planning, formulating the marketing mix, integrating marketing and technology, and global strategystrategies for businesses for redefining markets and successfully competing in the 21st centurythe impact company size has on marketing strategieshow to avoid the dangers of creating a market definition that is too narrow and limiting or one that is too broad and overlooks profitable niches in the marketEach chapter of Defining Your Market features exercises that will help you understand new concepts and allows you to put these methods to immediate and profitable use.
You will be able to learn about the tools and techniques that work for Andersen Consulting, Dell, General Electric, Intel, Merck, and Microsoft, and dozens of leading business marketers.Defining Your Market provides you with strategies that will help you define and redefine the most relevant and profitable markets for a successful and competitive business.
BIC: