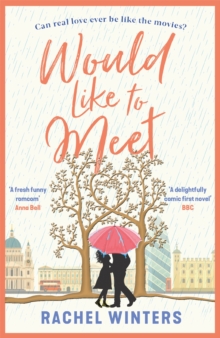 Would like to meet
1409184919 / 9781409184911
Reprint. Originally published: 2019.
'Funny, fresh and heart-warming' Stella Newman 'Smart, self-aware, and properly funny' Richard Roper'A dream of a rom-com!' Holly Miller Can you fall in love like they do in the movies?
It's Evie Summers' job to find out. Because if she can't convince her film agency's biggest client, Ezra Chester, to write the romantic comedy script he owes producers, her career will be over.
The catch? He thinks rom-coms are unrealistic - and he'll only put pen to paper if Evie shows him that it's possible to meet someone in real life the way it happens on the big screen. Cynical Evie might not believe in happily ever after, but she'll do what it takes to save the job that's been her lifeline . . . even if it means recreating iconic rom-com scenes in public.
Spilling orange juice on a cute stranger? No problem. Leaving her number in books all over London to see who calls?
Done. With a little help from her friends - and the father-daughter duo who witness her humiliations - Evie is determined to prove she can meet a man the way Sally met Harry.
But can a workaholic who's given up on love find a meet-cute of her very own?Perfect for fans of The Flatshare, Beach Read and If I Never Met You, Would Like to Meet is a love story for hopeless romantics everywhere. 'A fresh and funny romcom with all the magic of the movies' Anna Bell 'Winters's charming debut combines tropes from classic romantic comedy films to hilarious effect' Publishers Weekly 'Relive your favourite rom-com movie moments in this charming and delightful meet-cute novel' Erin Reinelt 'A writer who's one to watch' Sarra Manning 'This is the perfect romcom, sharp and clever and so funny!' Michele Gorman'The references to classic films of the genre will delight rom-com fans, as will the sweet romance.
The best scenes, though, are with Evie and her three best friends, who have the warmly mocking dynamic of friends in a Richard Curtis film.
A lovely, humorous ode to romantic comedies' Kirkus Reviews 'Winters employs self-aware, genre-savvy characters to expertly balance humour and heart' Publishers Weekly (starred review)
BIC:
5HC Christmas, ASZB Performing arts: comedy, FA Modern & contemporary fiction (post c 1945), FRD Adult & contemporary romance