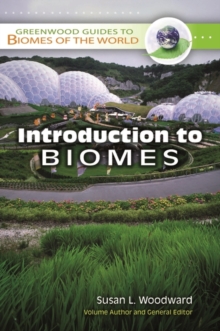 031333997X / 9780313339974
Introduction to Biomes is both a standalone summary to the concept of biomes and an introduction to the 8-volume series Greenwood Guides to Biomes of the World. The volume covers:* The biome concept and brief descriptions of vegetation, climate and distribution of the terrestrial and of the range of freshwater and aquatic biomes covered in the set. * Classifying life - how scientists discuss the taxonomic hierarchy and how it has been used to determine how to divide the world into regions based on living organisms. * The ecosystem concept - how this and other major concepts from ecology that are key to understanding biomes. * Terrestrial environments - the various climatic variables and climate types, and a discussion of our changing planet * Aquatic environments and life - how lifeforms and food chains make aquatic environments distinct from terrestrial biomes.
Maps, photos, diagrams, drawings, and tables accompany the text, as do sidebars that highlight habitats, species, and ecological relationships.
The volume includes a bibliography of accessible resources for further research.
BIC: