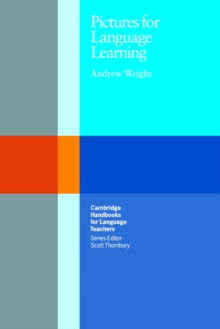 Pictures for language learning
0521358000 / 9780521358002
Pictures for Language Learning is richly illustrated and provides a valuable guide to the role of pictures and other visual materials in language teaching.
It brings together a wealth of ideas on how to use pictures in a wide range of language learning situations.
The first section discusses the contribution visuals can make to all the classroom settings in providing real opportunities for students to communicate, whether they are working as a class, in groups or in pairs.
Sections B and C contain over 200 practical suggestions for picture-generated language work.
These make use of visual materials which are readily available to teachers anywhere or illustrations which have been kept simple so that they can be copied easily.
The activities can be integrated into all stages of the language teaching process and advice is given on how to adapt the ideas to suit different teaching environments.
The final section describes the process of setting up a picture library and offers guidance on where to begin looking for visuals, how to categorise pictures and different methods of storage.
BIC: