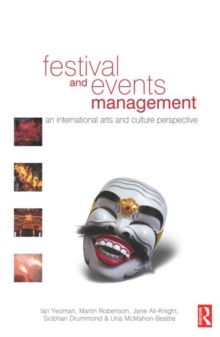 Festival and events management : an international arts and culture perspective
075065872X / 9780750658720
* Provides practical applications, models and illustrations of the event management operation from a variety of international perspectives<p/>* Demonstrates how to manage and market the arts and leisure experience<p/>* International case studies from Europe, New Zealand, Australia and USA
"Festival and Events Management: An International Perspective" is a unique text looking at the central role of events management in the cultural, tourism and arts industries.
With international contributions from industry and academia, the text looks at the following: events and cultural environments; managing the arts and leisure experience; and, marketing, policies and strategies of art and leisure management.
Chapters include exercises, and additional teaching materials and solutions to questions are provided as part of an accompanying online resource.
It provides practical applications, models and illustrations of the event management operation from a variety of international perspectives.
It demonstrates how to manage and market the arts and leisure experience.
It includes international case studies from Europe, New Zealand, Australia and USA.
BIC:
KJM Management & management techniques, KNSG Tourism industry, KNT Media, information & communication industries