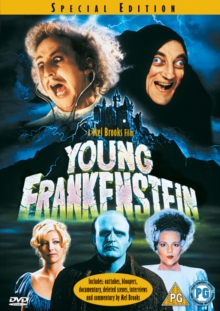 DVD (DVD / Special Edition)
Gene Wilder and Marty Feldman star in Mel Brooks' Academy Award-nominated comedy horror spoof.
When young neurosurgeon Frederick Frankenstein (Wilder) inherits his grandfather's Transylvanian estate, along with his hunchback friend Igor (Feldman), lab assistant Inga (Teri Garr) and housekeeper Frau Blücher (Cloris Leachman), he finds himself rather overwhelmed at the prospect of running his own castle.
His scientific curiosity is piqued though when he discovers his grandfather's notebook in which he documented his experiments with reanimation, and Frederick sets about conducting his own experiments to create his very own monster.
The cast features Peter Boyle as The Monster.
Interviews: Cast and crew