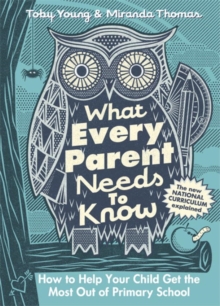 What every parent needs to know : how to help your child get the most out of primary school
0241004721 / 9780241004722
Usually dispatched within 2 weeks
23 cm xxiii, 406 pages : illustrations (black and white)
What Every Parent Needs to Know is the bestselling, step-by-step guide to the new primary school curriculum from Toby Young and Miranda Bondy. What is your child learning each day in school? How can you tell if they are doing well or badly? And what can you do to help?This practical, detailed and user-friendly manual contains absolutely everything you need to know about primary schooling and the new UK curriculum, ensuring your child will succeed and flourish every step of the way. As parents we do the very best for our children in choosing the right school and preparing them for their very first day.
But for the next seven years we have little idea what our child is learning, whether they are doing well or badly and what, if anything, we can do to help. What Every Parent Needs to Know changes that. It gives us, the parents, the details, the thinking behind and a thorough understanding of the brand-new primary school curriculum launching in September 2014. Taking us year-by-year through our children's schooling, we'll be given simple explanations of:- What they'll be taught and why (from phonics checks to SPAG tests)- What they need to know at the start of each year- What they should be able to achieve at its end- The games and exercises we can do at home to help outWhat Every Parent Needs to Know explains the confusing jargon while being otherwise jargon free and is written by two parents (who between them have nine children) with many successful years working in staff rooms and classrooms. Not only will this guide help you understand your children's journey through primary school, but it will also help you prepare, encourage and nurture them every step of the way. It's the manual every confused, unsure or worried parent has been waiting for. Toby Young is the outspoken columnist who wrote the international bestseller How to Lose Friends and Alienate People.
A high-profile and passionate education reformer, he co-founded and set up two primary schools and wrote How to Set Up a Free School (2011) .
Toby has 4 children, all currently at primary school. Miranda Thomas started teaching in 1990, coinciding with the very first national curriculum.
She is now an A level physics teacher in Wiltshire, as well as being the Chair of Governors at her local primary school and a parent herself.
Her youngest child is currently in Year 8.
BIC:
* Variable discounts between 0% and 15% are applied to items where BBfS cannot determine exact discounts from suppliers.