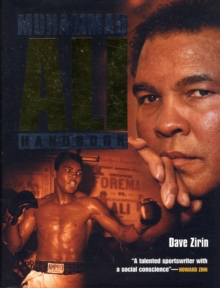 Muhammad Ali handbook
Part of the Handbook series
1846011558 / 9781846011559
"The Muhammad Ali Handbook" tells the story of an extraordinary human being who has always evoked the most extreme reactions - ranging from love and adulation to vitriolic hate.
This is the story of the Ali that they can never bury - not even under the pall of devastating illness and a mountain of cheap medals.
For, when Ali spoke, the whole world listened. As he said, 'Where do you think I'd be next week if I didn't know how to shout and holler?
I'd probably be down in my hometown washing windows and saying yassuh and nossuh and knowing my place!' Featuring essays on Ali's childhood in Louisville, his emergence as the most gifted boxer ever known, his conversion to Islam, his anti-Vietnam War stand, his years of exile from the ring and his triumphant return, all the keynote bouts including 'The Rumble in the Jungle' and 'The Thrilla in Manila', and remarkable and exclusive interviews with biographers, sportswriters and champions, this book charts his progress towards his ultimate destiny as a universal icon.
BIC: