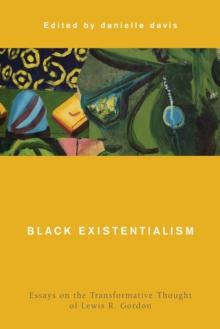 Black existentialism : essays on the transformative thought of Lewis R. Gordon
1786611473 / 9781786611475
Usually dispatched within 4 weeks
Few contemporary intellectuals have attempted to inform theory, the academy and social change as does Lewis Gordon.
Following his own path of Fanon, Cesaire and Said, Gordon's work is an urgent call to action that is critical 'in the trying times' in which we find ourselves. In this important book, international scholars from many disciplines and areas of life engage in Gordon's work to prod, rattle and rethink our thinking to inform and change our practices as humans in institutions, politics, and the personal, legal and social paradigms.
The book focuses on the importance of radical theory and thinkers to push for projects of change in the area of Black Existentialism.
Gordon's now extensive oeuvre personifies this. The essays use the work of Lewis Gordon to demonstrate how theory and thought be can used for transformation of existence, antiracism and critiques of alterity, resistance, pedagogy, political action theory and disciplinary decadence in the academy and beyond.
BIC:
HPCF Western philosophy, from c 1900 -, HPCF3 Phenomenology & Existentialism, HPS Social & political philosophy, JFSL3 Black & Asian studies