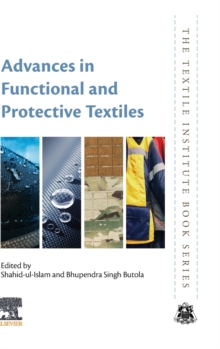 Advances in functional and protective textiles
0128202572 / 9780128202579
23 cm 750 pages : illustrations
Advances in Functional and Protective Textiles explores the latest research in the use of textile materials for protective clothing.
The book's international roster of researchers in industry and academia describe innovative applications in defense, medical, sports, fire protection, radiation protection, and more.
This book is an invaluable resource for readers seeking to produce textiles with self-cleaning, antimicrobial, super-hydrophobic, UV-protective, insect repellant, flame retardant or anti-felting properties.
Particular attention is given to textile fibers, including cotton, wool, viscose, and other synthetic fibers whose properties solve many problems.
Sustainable approaches to the processing of textiles for protective properties are also addressed, as are hazards.
BIC: