Dyslexia Awareness Week 2023
5th October 2023
The Week of October 2nd until 8th is Dyslexia Awareness Week, a celebration of being unique.

Dyslexia is a subject close to my heart - as someone who battles every day with the challenges that dyslexia can bring. Many people associate dyslexia with 'not being able to read' yet research suggests that dyslexia does not reflect an overall defect in language but rather localised weakness within the phonologic side of the brain (where sounds are put together to form words) which can cause difficulty in the use of, or processing of linguistic codes, alphabetic letters or numeric codes which represent numbers and quantities.
When people find out that I work in books and have dyslexia they are often surprised. I love my job at Browns Books and have always had a love of learning since a young age, something which was always encouraged by my bookworm parents. In fact, it is why my dyslexia was not discovered until I was in college at the age of 16 after I had struggled through school and gained all my GCSEs. School was very hard for me; I knew my brain processed things differently from my peers. My perception of myself was that I was not academically bright and excelled at more creative subjects. I felt my confidence in more academic subjects dwindle along with my interest and felt teachers were frustrated with me as they could all see my 'potential,' but I never met what they expected me to achieve. There was never any mention that I might be dyslexic and I believe this was because of my love for Drama and English. Looking back, I can see that my written work was very typical of someone who has dyslexia but because of the lack of awareness around this topic at the time it was left undiagnosed.
Dyslexia is very common with an average of 1 in 10 people believed to have this neurological condition, in fact, 70-80% of children who are placed in special educational settings are dyslexic. Thankfully since I attended school there has been a lot of wonderful, interesting research and studies to overcome the problems faced with identifying dyslexia. The stigma that was associated with dyslexia also made me ashamed and instead of confining in my peers and accepting that I was dyslexic, I struggled to study with no help. Today the support available for anyone struggling with dyslexia is amazing and people's perceptions have changed enormously – but we always need to do more. Educating people on dyslexia is a priority for the British Dyslexia Association for example, and with fantastic initiatives like Dyslexia Awareness Week they aim to shine a spotlight and spread the word that people with dyslexia should be celebrated for their unique and exceptional contribution, and for 2023 they have chosen the theme of 'Uniquely You'.
Every dyslexic person has their own experience and over time I realised I was not alone in mine. I accepted that dyslexia is a part of me and did not define me. I managed to gain GCSEs, A-levels and a degree which is a huge achievement but not without struggle, and now have a career working in the Book industry which I am passionate about.
So the main question is, what is Dyslexia?
Dyslexia is a learning difficulty that mainly affects reading and writing skills, although it can impact on other areas such as organising yourself. Dyslexia is actually about how an individual's brain processes information. All brains are unique and the same applies to people with dyslexia. Each person has a lived experience with the condition which is unique to them and as such they will also have their own set of abilities and difficulties. However, knowing the most common signs that can help identify whether difficulties are an indication of dyslexia can be beneficial:
- Many people with dyslexia may have difficulty with processing and remembering information and acquisition of literacy skills.
- Dyslexia can impact other skills such as the ability to organise yourself.
- Many Dyslexic people struggle to match letters to sounds and remembering how to spell words.
- Letters can move around when reading or move like waves, become blurry or run off the page - especially when using technology.
- Some Dyslexic people struggle with remembering their left from right.
- Memorising sequences can be tricky and a lot of instructions all at once will feel overwhelming.
- Forgetting words or needing more time to find the right word can be a common sign of Dyslexia.
- Many Dyslexic people find holding a pen and writing by hand very difficult.
The British Dyslexia Association has a much more comprehensive resource on the signs of dyslexia, broken down by age which can be found here: Signs of dyslexia - British Dyslexia Association (bdadyslexia.org.uk) Sometimes though the signs of dyslexia can be the feelings expressed by people. Finding tasks difficult that others deem simple can be frustrating and stressful. Many Dyslexic people find it easier to cover up their struggles rather than admit they are weaker in other skills.

However, thinking differently can be a great thing. People with dyslexia are seen as more creative. They usually excel at making up stories and making people laugh. They may be great at seeing the patterns in things and solving problems. A person with dyslexia can sometimes take things apart and understand how they work, putting them back together again easily. Dyslexic people have contributed enormously to our world. Albert Einstein, Steve Jobs, Lewis Caroll, John Lennon, Jamie Oliver, Jay Blades and Walt Disney (among many others!) are all dyslexic.
If you think your child may have dyslexia, the first step is to speak to their teacher or their school's special educational needs co-ordinator (SENCO) about your concerns. They may be able to offer additional support to help your child if necessary. If your child continues to have problems despite extra support, you or the school may want to consider requesting an in-depth assessment from a specialist in assessing specific learning difficulties (SpLD), an educational psychologist or a speech and language therapist.
This can be arranged through the school, or you can request a private assessment by contacting an educational psychologist directly (see the directory of chartered psychologists on the British Psychological Society's website), a voluntary organisation that can arrange an assessment or share details of a qualified assessor in your area, such as the British Dyslexia Association, The Dyslexia Association, or Patoss.
Adults who wish to be assessed for dyslexia should contact a local or national dyslexia association for advice.
Books can help!
It may seem contrary to say that books can help with dyslexia, but having a book that has been specially created for dyslexic readers can be an enormous aid, and books about dyslexia or featuring dyslexic characters can open up conversations and help build empathy in those who are not aware of dyslexia.

I especially recommend Wonderfully Wired Brains, a recently published title aimed at children aged 7-9, which aims to be a safe space to feel that your differences are accepted and to show children that everyone's differences should be celebrated.
Wonderfully wired brains
Gooding, Louise
Laminated
An informative and inclusive children's guide to neurodiversity for those not in the know and to inspire children who are neurodivergent. Our brains are unique in the way they function, work, and think. Neurodiversity is still a relatively 'new' concept that can be tricky to understand, but this book is here to help! This inspirational book written by neurodiverse author Louise Gooding challenges misconceptions and shows how neurodivergent brains work a little differently. It is common for neurodiverse people and those with neurological differences to feel as though they don't fit in, but their extraordinary differences should be embraced. Wonderfully Wired Brains teaches children aged 7-9 all about the awesome abilities that neurodiverse individuals have, introduces them to advocates who are challenging neurodiversity stereotypes, and most importantly gives them a safe space to feel accepted. This informative and educational book for children features:- Accurate, understandable explanations of diagnoses that impact the brain, including each area of neurodiversity and what it can or does mean for anyone with that particular neurological difference. - A positive, friendly look at neurodiverse brains that debunks myths and stereotypes. - Informative, inclusive text is accompanied by colourful, modern illustrations. The font and colours used have been selected to accommodate a range of neurodiverse readers. Combining neurodiverse experiences with science, history, and brain-bursting facts, Wonderfully Wired Brains has something for everyone!Whether your child is neurodiverse or not, this book will inspire inquisitive young readers and show them that no two brains function in the same way and that everyone's differences should be celebrated. There really is no other book like it.
More Details
Another recommendation is for the publisher Barrington Stoke who is an award-winning publisher with 25 years' experience in pioneering super readable, dyslexia-friendly titles, with a motto of 'Every Child can be a Reader'.
They print with a unique dyslexia-friendly font which has been proven to make reading easier for people who struggle with dyslexia and stops the reader getting lost on the page. They use accessible layouts and spacing to stop the pages from becoming too overcrowded and overwhelming. Through research, it has been proven that black text on white pages -as with traditional forms of print- can hurt sensitive eyes so Barrington Stoke choose to print on off-white paper which helps to reduce visual stress.
Barrington Stoke publishes un-patronising stories and they perfectly match the age of the reader not the reading level which helps make reading more enjoyable. The short books and chapters are designed to help build confidence and stamina encouraging the reader, and they produce clear and manageable 'rest' breaks for the reader. Barrington Stoke uses fantastic authors, many are award-winning household names, but all can be relied on for the quality of their writing. Barrington Stoke also takes the classics which are usually out of reach for older readers, and makes them accessible. You can see their full list of dyslexia-friendly classics here.
I'd also like to recommend the publisher Jessica Kingsley publishers, whose mission is to promote diversity and who publish authors who have lived experience of the topics they cover. Since 1987 they have produced amazing books on mental health, gender- and neurodiversity and special education. They have over 40 titles about dyslexia alone, with a wide range of subjects from teaching someone with dyslexia and parenting a dyslexic child to self-help guides. I was really inspired by Creative, Successful, Dyslexic and how so many wonderfully intelligent and creative people have found a way to make their dyslexia their superpower and become household names in all different industries. The lives of dyslexic authors like Benjamin Zephaniah and Lynda La Plante particularly resonated with me.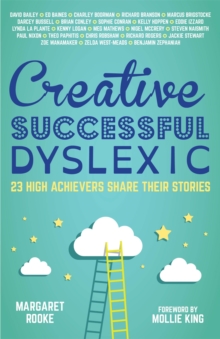 Creative, successful, dyslexic : 23 high achievers share their stories
Rooke, Margaret
Paperback
23 very well-known people from the arts, sport, and business worlds talk about how dyslexia affected their childhood, how they were able to overcome the challenges and use the special strengths of dyslexia to achieve great success in adulthood. Darcey Bussell CBE, Eddie Izzard, Sir Richard Branson, Meg Mathews, Zoe Wanamaker CBE, Richard Rogers, Benjamin Zephaniah, Steven Naismith, Lynda La Plante CBE, Sir Jackie Stewart OBE, Sophie Conran and others share their stories, and their advice. All reveal the enormous difficulties they faced, the strength required to overcome them, the crucial importance of adult support, and how `the different way the brain is wired' in dyslexia has enabled them to see something different in the world and to use their creativity in an exceptional way. They talk about `thinking sideways', and the ability to look at a bigger picture, the often strong visual strength, and the ability to listen, and to grasp simplicity where other people see only complexity. They also talk about how dyslexia continues to challenge them, and the ways they have found to work around this. An introduction, and final section that includes practical information about dyslexia, are written with the support of Dyslexia Action, and a percentage of profit from the book is going to The British Dyslexia Association. The book will be essential reading for teachers and other professionals, and for families affected by dyslexia, and inspirational for people with dyslexia.
More Details
Ultimately being Dyslexic does not mean you are any less capable than anyone else. You are wonderful and unique; your brain is made to be creative. Use it, celebrate it, and share your experiences this Dyslexia Awareness Week to build awareness and empathy.

Kat, Content Selection Team