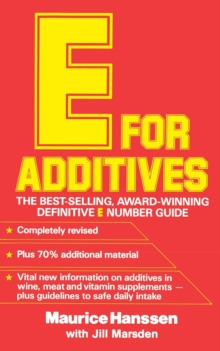 0722515626 / 9780722515624
Usually dispatched within 4 weeks
129 x 198 mm, 307 grams 384 pages, bibliography, index
This work cracks the 'E' number code and enables you to understand the lists of additives that appear on the packs of the food you buy, so that you can see exactly what has been added, where it comes from, why it has been added, what it does to the food and - if anything - what it might do to you.
Here is all you need to know about: which additives are natural and which can have harmful effects; the reasons behind the use of preservatives, colours and flavourings in our foods; how to make informed choices when you shop; additives in wine and vitamin supplements; additives in meat; and guidelines on acceptable daily intake.
The vital guide has led a consumer revolution, causing the food industry to re-think its policy on additives.
No one who is concerned with the quality of the food they eat can afford to be without this invaluable reference book.
Maurice Hanssen wins Glenfiddich Special Award for excellence in food and wine writing - "E for Additives". "has done more than any other publication to persuade the food industry that unnecessary over-processing is not in their interest or the interest of the public." - Derek Cooper, award judge, in "The Listener".
BIC:
TDCT Food & beverage technology, VFMD Diets & dieting, WB Cookery / food & drink etc