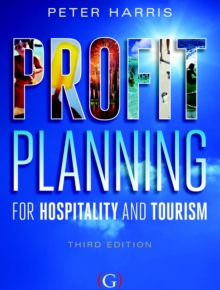 Profit planning : for hospitality and tourism (3rd revised and extended edition)
1908999616 / 9781908999610
24 cm viii, 269 pages : illustrations (black and white)
Profit Planning is ideal for practicing managers, entrepreneurs, accountants and financial controllers engaged in the hospitality and tourism sectors and for students of hospitality and tourism management interested in applying theory to practice. In particular, the content provides a complete guide to key managerial accounting techniques at the property level - the "cutting-edge" of day-to-day business decisions.
This extended edition includes:* New bullet point format, allowing the reader to 'dip into' specific methods and techniques; * New research & developments applicable to practitioners at the property (business unit) level;* New chapters, such as cost structure, incorporating the author's profit planning framework implemented in numerous hotel and tourism organisations;* A new chapter on comparing & benchmarking performance for monitoring results against competitive set; * A new chapter on customer profitability analysis for identifying customer profiles in terms of profit contributors and loss-makers;* Extensive revision of chapters, such as financial statements, flexible budgets and pricing;* Revised edition now includes a major new section Step-by-Step: Quantitative analysis of cost functions in hotels & restaurants.
A concise guide to improving the accuracy of cost estimates for routine competitive bidding and transaction negotiation, where lost margins lie; enabled by software e.g.
Excel. An essential tool for all those in industry. Written in a user-friendly style, with a minimum of theory and technical jargon, it assumes readers already have a basic knowledge of accounting and financial statements.
BIC: