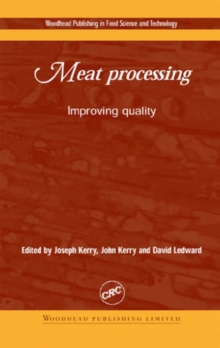 Meat processing : improving quality
1855735830 / 9781855735835
Usually dispatched within 2 weeks
general Learn More
research & professional
technical & vocational
Meat is both a major food in its own right and a staple ingredient in many food products.
With its distinguished editors and an international team of contributors, Meat processing reviews research on what defines and determines meat quality, and how it can be maintained or improved during processing. Part one considers the various aspects of meat quality.
There are chapters on what determines the quality of raw meat, changing views of the nutritional quality of meat and the factors determining such quality attributes as colour and flavour.
Part two discusses how these aspects of quality are measured, beginning with the identification of appropriate quality indicators.
It also includes chapters on both sensory analysis and instrumental methods including on-line monitoring and microbiological analysis.
Part three reviews the range of processing techniques that have been deployed at various stages in the supply chain.
Chapters include the use of modelling techniques to improve quality and productivity in beef cattle production, new decontamination techniques after slaughter, automation of carcass processing, high pressure processing of meat, developments in modified atmosphere packaging and chilling and freezing.
There are also chapters on particular products such as restructured meat and fermented meat products. With its detailed and comprehensive coverage of what defines and determines meat quality, Meat processing is a standard reference for all those involved in the meat industry and meat research.
BIC:
KNDF Food manufacturing & related industries, TDCT Food & beverage technology