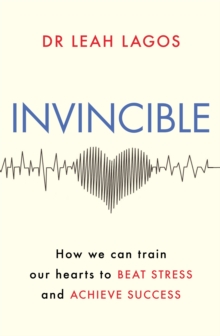 Invincible : how we can train our hearts to beat stress and achieve success
1409184382 / 9781409184386
24 cm 279 pages : illustrations (black and white)
Originally published: New York: Houghton Mifflin Harcourt.
Stress is not in your head, it's in your heart - this is the key to peak performance that Dr Leah Lagos, an internationally known expert in biofeedback and sport and performance psychology, wants us to know.
In this book, she shares with readers for the first time the same program that she uses with top athletes, CEOs, business leaders - anyone who wants and needs to perform at their best.
What makes her scientifically proven ten-week programme unlike any other is that she recognises the link between heart rhythms and stress to create specific, clinically tested breathing techniques that allow you to control your body's physical response to stress.
She pairs this training with cognitive-behavioural exercises to offer a two-tiered protocol for strengthening health and performance, enabling readers to respond more flexibly to stressful situations, let go of negative thoughts and emotions, and ultimately be more focused and confident under pressure. ********************** 'Dr. Leah Lagos is an extraordinary being. I've never known a greater empath . . . The vast majority have described the experience as some version of life changing, and I've been blown away by the immense performance benefits.' Josh Waitzkin, author of The Art of Learning, eight-time U.S.
National Chess Champion, two-time Tai Chi Push Hands World Champion, Brazilian jiu-jitsu black belt, and the real-life inspiration behind the film Searching for Bobby Fischer'This is a step-by-step owners manual for the human body...Her holistic and data-driven protocols fit athletes and laymen equally well.
Now get into your body and breathe.' Scott Carney, New York Times best-selling author of What Doesn't Kill Us'If you can control your emotions and attention, you can navigate whatever happens in life with your full range of abilities.
It doesn't take years of yoga and meditation. Dr Lagos teaches you how to tap a powerful tool anyone can use in daily life.' Adam Robinson, New York Times best-selling author of Cracking the SAT
BIC:
VFJS Coping with stress, VS Self-help & personal development