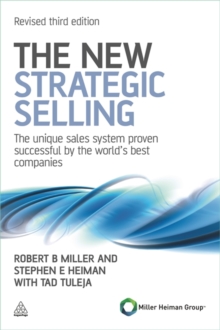 The new strategic selling : the unique sales system proven successful by the world's best companies (4th ed.)
0749462949 / 9780749462949
Previous ed.: published as by Stephen E. Heiman & Diane Sanchez with Tad Tuleja. 2004.
One of the best-selling books on selling ever published, Strategic Selling (R) presented the idea of selling as a joint venture and introduced the influential concept of 'win-win'.
The response to 'win-win' was immediate, forever changing sales and marketing with its rejection of manipulative tactics.
It helped to turn Miller Heiman, the company that created Strategic Selling (R), into a global leader in sales and development, with the most prestigious client list in the industry. A genuine business classic, this latest, third edition of The New Strategic Selling confronts the rapidly evolving world of business-to-business sales with real-world examples, strategies for confronting the competition and a special new section featuring the most commonly asked challenging questions from the Miller Heiman workshop.
It remains essential reading for sales directors, managers and executives in any type of company.
BIC: