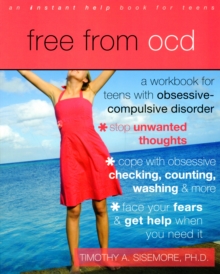 Free from OCD : a workbook for teens with obsessive-compulsive disorder
1572248483 / 9781572248489
Usually dispatched within 2 weeks
Most children with obsessive-compulsive disorder (OCD) are diagnosed between the ages of ten and twelve-right on the cusp of their adolescent years.
Yet, until now, there have been no resources available for the substantial population of teens suffering with the unwanted thoughts (obsessions) and rituals (compulsions) characteristic of OCD.
The activities in this book help teens and parents work together to assess the severity of the symptoms and offer teens cognitive behavioural skills to overcome them.
Teen readers learn essential information about the biology and dynamics of OCD, then discover a multitude of skills for moving beyond the most common types of obsessions and compulsions: hand washing, checking, counting, ordering, repetition of mental acts, fear of harm to self or family, fear of germs or diseases, fearing of losing something valuable, and perfectionism.
The last section explains exposure and response prevention and invites the reader to understand and prepare to undergo this process. Both imagined and real-life exposure and response prevention exercises are included to help teens with OCD make dramatic gains in symptom management and improve their confidence to move forward in treatment.
BIC:
VFJS Coping with stress, VFXC1 Teenagers: advice for parents, VSP Popular psychology, YXA Personal & social issues: body & health (Children's / Teenage)
* Variable discounts between 0% and 15% are applied to items where BBfS cannot determine exact discounts from suppliers.